Hey Guys! It is Max here and today I will be producing an article on my blog called 'My Most Anticipated Reads Of 2019'. Just like last year, I will be manufacturing three articles in this category towards the end of the year- 31st of December 2018, in order to provide my overall reading experience of the year! So, if you have missed any of the previous articles, here are the links to it:
Worst Books Of 2018

Best Books Of 2018

Most Anticipated Reads of 2019
So, without further ado, let us get into the provision!
9. Blood Heir By Amélie Wen Zhao 
Synopsis:
A fugitive princess with the power to control blood. A black-hearted conman with no past and no future. An Empire spiralling into darkness. A world worth saving.
The Cyrilian Empire: a glittering white sprawl of frozen tundras and ancient, snow-capped forests, where ice spirits roam beneath the flickering northern lights, and where slavers hunt Affinites — those born with powers to manipulate elements.
Born with a horrifying Affinity to blood, Anastacya Mikhailov has never believed herself to be anything more than a monster. Her curse rings true when an accident in the dead of the night results in the death of her father, the Emperor of Cyrilia — and she is sentenced for his murder.
But Ana knows what she saw that night: the scent of poison in Papa's blood, and the face of a murderer vanishing into the dark.
Alone, hunted, and on the run, Ana makes a bargain with Ramson Quicktongue, a handsome yet dangerous underground crime lord: help her find the true murderer and clear her name in exchange for her alliance.
When Ana's search lands her in the lair of the most powerful slave trader in the Empire, she uncovers a horrifying truth. A new monarch stands poised to lead the empire to a path of hatred and divisiveness, and Ana must stop her before Cyrilia falls to darkness. But first, she must come to terms with the monster she thinks she is and the heir she was destined to be.
In a world where the princess is the monster, oppression is blind to skin colour, and good and evil exist in shades of grey… comes a dark Anastasia retelling that explores love, loss, fear, and divisiveness, and how ultimately it is our choices that define who we are.
Me:
Not only is the cover a gorgeous treat, the story itself- at least, its synopsis, sounded like something I would enjoy because it regarded on the topic of racial prejudice in a Fantasy novel which we rarely see in fantasy novels! Therefore, I cannot wait for this book to be published so I can have my sweaty hands on it!
8. The Similars By Rebecca Hanover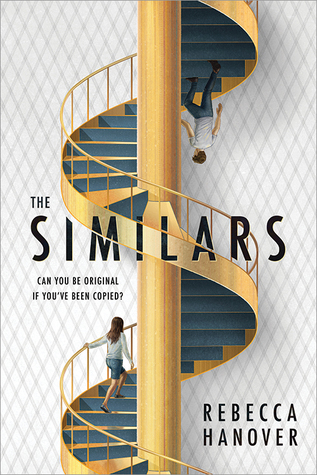 Synopsis:
When six clones join Emmaline's prestigious boarding school, she must confront the heartbreak of seeing her dead best friend's face each day in class.
The Similars are all anyone can talk about at the elite Darkwood Academy. Who are these six clones? What are the odds that all of them would be Darkwood students? Who is the madman who broke the law to create them? Emma couldn't care less. Her best friend, Oliver, died over the summer and all she can think about is how to get through her junior year without him. Then she comes face-to-heartbreaking-face with Levi—Oliver's exact DNA replica and one of the Similars.
Emma wants nothing to do with the Similars, but she keeps getting pulled deeper and deeper into their clique, uncovering dark truths about the clones and her prestigious school along the way. But no one can be trusted…not even the boy she is falling for who has Oliver's face.
Me:
There is something about this book that just pulls me in. Perhaps it is the idea of cloning and DNA replica that just grabs my interest because I know, for once, that DNA replica is very close to reality and I don't know… but I cannot wait to read this novel!
7. The Merciful Crow By Margaret Owen
Synopsis:
A future chieftain
Fie abides by one rule: look after your own. Her Crow caste of undertakers and mercy-killers takes more abuse than coin, but when they're called to collect royal dead, she's hoping they'll find the payout of a lifetime.
A fugitive prince
When Crown Prince Jasimir turns out to have faked his death, Fie's ready to cut her losses—and perhaps his throat. But he offers a wager that she can't refuse: protect him from a ruthless queen, and he'll protect the Crows when he reigns.
A too-cunning bodyguard
Hawk warrior Tavin has always put Jas's life before his, magically assuming the prince's appearance and shadowing his every step. But what happens when Tavin begins to want something to call his own?
Me:
ASIFJBOSIBGOIABSOGBAS  This looks fantabulous! It's not even a word but omgomgomg, I want to read it, just give the freaking book to me, right now.
6. Four Dead Queens 

By

 Astrid Scholte
Synopsis:
A divided nation. Four Queens. A ruthless pickpocket. A noble messenger. And the murders that unite them.
​
Get in quick, get out quicker.
These are the words Keralie Corrington lives by as the preeminent dipper in the Concord, the central area uniting the four quadrants of Quadara. She steals under the guidance of her mentor Mackiel, who runs a black market selling their bounty to buyers desperate for what they can't get in their own quarter. For in the nation of Quadara, each quarter is strictly divided from the other. Four queens rule together, one from each region:
Toria: the intellectual quarter that values education and ambition
Ludia: the pleasure quarter that values celebration, passion, and entertainment
Archia: the agricultural quarter that values simplicity and nature
Eonia: the futurist quarter that values technology, stoicism and harmonious community
When Keralie intercepts a comm disk coming from the House of Concord, what seems like a standard job goes horribly wrong. Upon watching the comm disks, Keralie sees all four queens murdered in four brutal ways. Hoping that discovering the intended recipient will reveal the culprit – information that is bound to be valuable bartering material with the palace – Keralie teams up with Varin Bollt, the Eonist messenger she stole from, to complete Varin's original job and see where it takes them.
Me:
THE NEED IS REAL! QUEENS GETTING MURDERED? COUNT ME IN!
5. Again, but Better By Christine Riccio
Synopsis:
Shane has been doing college all wrong. Pre-med, stellar grades, and happy parents…sounds ideal — but Shane's made zero friends, goes home every weekend, and romance…what's that?
Her life has been dorm, dining hall, class, repeat. Time's a ticking, and she needs a change — there's nothing like moving to a new country to really mix things up. Shane signs up for a semester abroad in London. She's going to right all her college mistakes: make friends, pursue boys, and find adventure!
Easier said than done. She is soon faced with the complicated realities of living outside her bubble, and when self-doubt sneaks in, her new life starts to fall apart.
Shane comes to find that, with the right amount of courage and determination one can conquer anything. Throw in some fate and a touch of magic – the possibilities are endless.
Me:
I have been following Christine on Youtube since forever ago and I was so proud of her for finally releasing a novel and finished writing it! With that, I cannot wait to read this novel!
4. Sherwood 

by

 Meagan Spooner
Synopsis:
Robin of Locksley is dead. 
When news comes that he's fallen in battle at the King's side in the Holy Land, Maid Marian doesn't know how she'll go on. Betrothed to Robin, she was free to be herself, to flout the stifling rules of traditional society and share an equal voice with her beloved when it came to caring for the people of her land.
Now Marian is alone, with no voice of her own. The people of Locksley, persecuted by the Sheriff of Nottingham, are doomed to live in poverty or else face death by hanging. The dreadful Guy of Gisborne, the Sherriff's right hand, wishes to step into Robin's shoes as Lord of Locksley, and Marian's fiancé. Society demands that she accept her fate, and watch helplessly as her people starve.
When Marian dons Robin's green cloak, and takes up his sword and bow, she never intended that anyone should mistake her for Robin, returned from the Holy Land as a vigilante. She never intended that the masked, cloaked figure she created should stand as a beacon of hope and justice to peasant and noble alike. She never intended to become a legend.
But all of Nottingham is crying out for a saviour. So Marian must choose to make her own fate and become her own hero…
Robin Hood.
Me:
I am literally speechless … The synopsis for this novel sounded so good and sorry for repeating my words over and over again, but I am going to say once more: I CANNOT WAIT FOR THIS NOVEL TO BE RELEASED OUT INTO THE WORLDDDD.
3. Courting Darkness By Robin Lafevers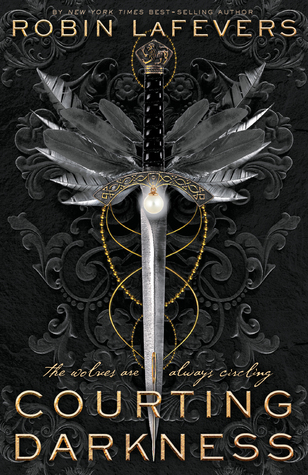 Synopsis:
Death wasn't the end, it was only the beginning…
Sybella has always been the darkest of Death's daughters, trained at the convent of Saint Mortain to serve as his justice. But she has a new mission now. In a desperate bid to keep her two youngest sisters safe from the family that nearly destroyed them all, she agrees to accompany the duchess to France, where they quickly find themselves surrounded by enemies. Their one ray of hope is Sybella's fellow novitiates, disguised and hidden deep in the French court years ago by the convent—provided Sybella can find them.
Genevieve has been undercover for so many years, she struggles to remember who she is or what she's supposed to be fighting for. Her only solace is a hidden prisoner who appears all but forgotten by his guards. When tragedy strikes, she has no choice but to take matters into her own hands—even if it means ignoring the long awaited orders from the convent.
As Sybella and Gen's paths draw ever closer, the fate of everything they hold sacred rests on a knife's edge. Will they find each other in time, or will their worlds collide, destroying everything they care about?
Me:
… *Speechless* … *Snickering excitedly* …
2. On The Come Up By Angie Thomas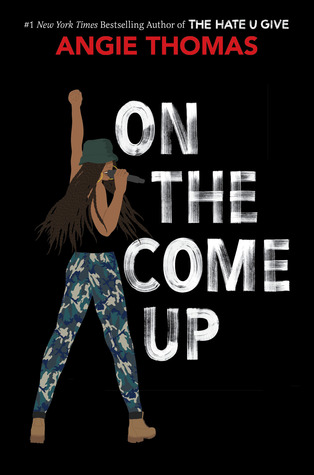 Synopsis:
Sixteen-year-old Bri wants to be one of the greatest rappers of all time. Or at least make it out of her neighborhood one day. As the daughter of an underground rap legend who died before he hit big, Bri's got big shoes to fill. But now that her mom has unexpectedly lost her job, food banks and shutoff notices are as much a part of Bri's life as beats and rhymes. With bills piling up and homelessness staring her family down, Bri no longer just wants to make it—she has to make it.
On the Come Up is Angie Thomas's homage to hip-hop, the art that sparked her passion for storytelling and continues to inspire her to this day. It is the story of fighting for your dreams, even as the odds are stacked against you; of the struggle to become who you are and not who everyone expects you to be; and of the desperate realities of poor and working-class black families.
Me:
Angie freaking Thomas, author of THE HATE U GIVE, is writing another novel that sets in Garden Heights! I cannot wait to read this because THE HATE U GIVE was one of my favourite books last year. So, of course, I have to read this.
1. The Priory Of The Orange Tree By Samantha Shannon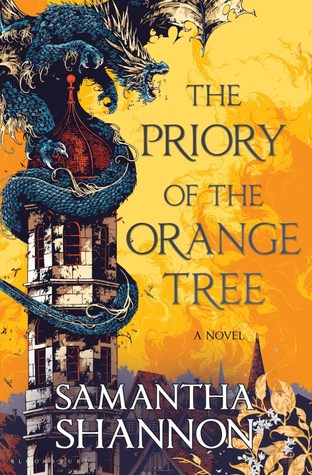 Synopsis:
A world divided.
A queendom without an heir.
An ancient enemy awakens.
The House of Berethnet has ruled Inys for a thousand years. Still unwed, Queen Sabran the Ninth must conceive a daughter to protect her realm from destruction—but assassins are getting closer to her door.
Ead Duryan is an outsider at court. Though she has risen to the position of lady-in-waiting, she is loyal to a hidden society of mages. Ead keeps a watchful eye on Sabran, secretly protecting her with forbidden magic.
Across the dark sea, Tané has trained all her life to be a dragonrider, but is forced to make a choice that could see her life unravel.
Meanwhile, the divided East and West refuse to parley, and forces of chaos are rising from their sleep.
Me:
One Word: YES.
---
And that concludes my 'Most Anticipated Books Of 2019!' Be sure to let me know what your Most Anticipated Books Of 2019 are down in the comment box below! I hope you all enjoyed this article and follow me with your email/WordPress account to get notifications when I post a new article! Bye!