Hey Guys! It is Max here and I will be producing an article called 'Best Books Of 2018' for my 3-part series towards the end of the year- 31st of December. Below will be a list of articles I will be producing for this 3-part series:
Worst Books Of 2018

Best Books Of 2018

Most Anticipated Reads Of 2019
Now, just like the last article, Best Books of 2018 does not mean that I will limit only to the books that were published this year, I will take the books that I read in 2018 and compare the result of my overall reading experience for this year.
So, without further ado, let us get into the provision!
10. History Of Wolves By Emily Fridlund
Synopsis:
Fourteen-year-old Madeline lives with her parents in the beautiful, austere woods of northern Minnesota, where their nearly abandoned commune stands as the last vestige of a lost counter-culture world. Isolated at home and an outlander at school, Madeline is drawn to the enigmatic, attractive Lily and new history teacher Mr Grierson. When Mr Grierson is charged with possessing child pornography, the implications of his arrest deeply affect Madeline as she wrestles with her own fledgeling desires and craving to belong. 
And then the young Gardner family moves in across the lake and Madeline finds herself welcomed into their home as a babysitter for their little boy, Paul. It seems that her life finally has a purpose but with this new sense of belonging she is also drawn into secrets she doesn't understand. Over the course of a few days, Madeline makes a set of choices that reverberate throughout her life. As she struggles to find a way out of the sequestered world into which she was born, Madeline confronts the life-and-death consequences of the things people do—and fail to do—for the people they love.
Me:
This story is not for everybody because of how the story was unfurled. 
The main character was odd and she had an obsession with stalking this particular girl called Lily and if you think she was an antagonist of the novel, you are wrong because of the plot twists at the end.
I thought this novel was cleverly written because it twisted the story and made everything seemed very grey. So, if you are into slow pacing and great character building novels, I recommend you to pick this one up.
9. Before I Fall By Lauren Oliver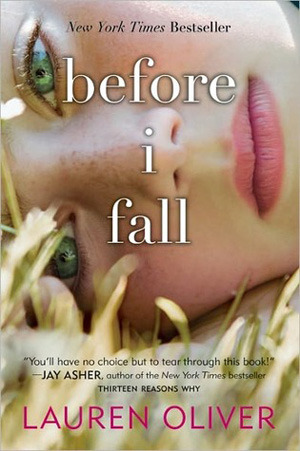 Synopsis:
For popular high school senior Samantha Kingston, February 12—"Cupid Day"—should be one big party, a day of valentines and roses and the privileges that come with being at the top of the social pyramid. And it is…until she dies in a terrible accident that night.
However, she still wakes up the next morning. In fact, Sam lives the last day of her life seven times, until she realizes that by making even the slightest changes, she may hold more power than she ever imagined.
Me:
Okay … Okay … Okay …
There are many things to love about this novel and if you would like to check out my review for this book, here's the link to it: Before I Fall By Lauren Oliver
8.The Book of Ralph 

by

 Christopher Steinsvold 
Synopsis:
A message appears on the moon. It is legible from Earth, and almost no one knows how it was created. Markus West leads the government's investigation to find the creator.
The message is simple and familiar. But those three words, written in blazing crimson letters on the lunar surface, will foster the strangest revolution humankind has ever endured and make Markus West wish he was never involved.
The message is 'Drink Diet Coke.'
When Coca-Cola denies responsibility, global annoyance becomes indignation. And when his investigation confirms Coca-Cola's innocence, Markus West becomes one of the most hated men on Earth.
Later, five miles above the White House, a cylinder is discovered floating in the night. It is 400 feet tall, 250 feet in diameter, and exactly resembles a can of Campbell's Chicken Noodle Soup. Nearly everyone thinks the cylinder is a promotional stunt gone wrong, just like the lunar advertisement. And this is exactly what the alien in the cylinder wants people to think.
Ralph, an eccentric extraterrestrial who's been hiding on the moon, needs Markus's help to personally deliver a dark warning to the White House. Ralph has a big heart, a fetish for Andy Warhol, and a dangerous plan to save the world.
Me:
I am literally so glad that an ARC of this novel was sent to me by the author, himself because I loved this novel so much. If you would like to know more about this book, you may click on this link as it is an in-depth review that I had produced on my blog: The Book Of Ralph By Christopher Steinsvold
7. The Curse Workers Series By Holly Black
Synopsis for White Cat:
Cassel comes from a family of curse workers: people who have the power to change your emotions, your memories, your luck, by the slightest touch of their hands. And since curse work is illegal, they're all criminals. Many become mobsters and con artists. But not Cassel. He hasn't got magic, so he's an outsider; the straight kid in a crooked family. You just have to ignore one small detail – he killed his best friend, Lila, three years ago.
Cassel has carefully built up a facade of normalcy, blending into the crowd. But his facade starts to crumble when he finds himself sleepwalking, propelled into the night by terrifying dreams about a white cat that wants to tell him something. He's noticing other disturbing things, too, including the strange behaviour of his two brothers. They are keeping secrets from him. As Cassel begins to suspect he's part of a huge con game, he must unravel his past and his memories. To find out the truth, Cassel will have to outcon the conmen.
Me:
I will not speak much on this series here as I loved it to the core of my being and I had also made a whole series (full-scope) review on this book… So, if you would like to give it a read, click on this link: Curse Workers Trilogy By Holly Black
6. The Slave Prince By Jeyna Grace
Synopsis:
For fifteen years, Thom believed he was a prince of Alpenwhist. He had climbed the castle turrets to survey his kingdom, learned to duel with the sharpest blades, and stirred up palace intrigue in disguise. But one day his identity is suddenly shattered by the revelations of a blind woman: he learns that he isn't a prince at all, but a wretched slave.
In a kingdom where ruthlessness is part of everyday life, Thom fears this new truth could be deadly. He takes flight, running from the life he knew and the one he despises, but the call to free his people beckons him home. Armed with a magic stone that instructs him through surreal visions, he must topple his once beloved brother who has since become a tyrannical king.
A fantastical retelling of the story of Moses, Thom's adventure forces him to question if he can succeed in his quest without truly understanding who he is. He must unravel his past, present, and future before he can set his people free.
Me:
I am so glad I gave Ms Grace another chance (Did not like her other book called The Battle Of Oz) because I absolutely adored this novel… More thoughts on it here: The Slave Prince By Jeyna Grace
5. Crooked Kingdom By Leigh Bardugo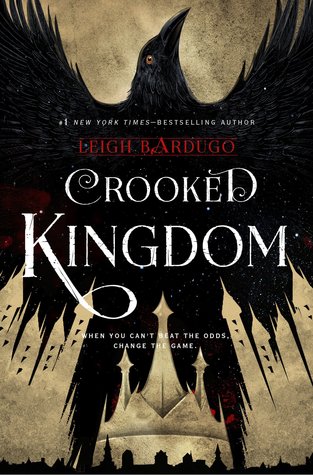 Synopsis:
Kaz Brekker and his crew have just pulled off a heist so daring even they didn't think they'd survive. But instead of divvying up a fat reward, they're right back to fight for their lives. Double-crossed and badly weakened, the crew is low on resources, allies, and hope. As powerful forces from around the world descend on Ketterdam to root out the secrets of the dangerous drug known as jurda parem, old rivals and new enemies emerge to challenge Kaz's cunning and test the team's fragile loyalties. A war will be waged on the city's dark and twisting streets―a battle for revenge and redemption that will decide the fate of the Grisha world.
Me:
I did not exactly enjoy my rocky process of reading Six Of Crows… It might be my fault on that part because I was again, under stress. BUT, I LOVED THE HECK OUT OF THIS NOVEL.
I do not want to comment on anything about this because this is the sequel to Six Of Crows and I do not want to spoil you so, go and do yourself a favour: Pick this duology up in your local bookstore or library and start, Freaking, reading them.
4. The Nest By Kenneth Oppel
Synopsis:
Steve just wants to save his baby brother but what will he lose in the bargain? Kenneth Oppel s ("Silverwing," "The Boundless") haunting gothic tale for fans of "Coraline," is one of the most acclaimed books of the year, receiving six starred reviews. Illustrations from Caldecott Medalist Jon Klassen. For some kids, summer is a sun-soaked season of fun. But for Steve, it's just another season of worries.
Worries about his sick newborn baby brother who is fighting to survive, worries about his parents who are struggling to cope, even worries about the wasp s nest looming ominously from the eaves. So when a mysterious wasp queen invades his dreams, offering to fix the baby, Steve thinks his prayers have been answered. 
All he has to do is say Yes. But yes is a powerful word. It is also a dangerous one. And once it is uttered, can it be taken back? 
Me:
I have just written a review for this novel a few days back and it discussed the feelings that I had when I was reading this novel… More like my eyes being glued to the novel. So, if you would like to read the review, scroll down on the homepage of my blog and you will find it there.
3. The Statistical Probability of Love at First Sight By Jennifer E. Smith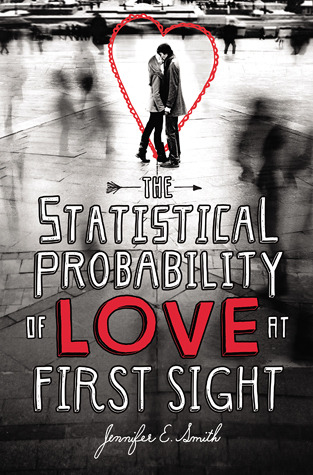 Synopsis:
Who would have guessed that four minutes could change everything?
Today should be one of the worst days of seventeen-year-old Hadley Sullivan's life. Having missed her flight, she's stuck at JFK airport and late to her father's second wedding, which is taking place in London and involves a soon-to-be stepmother Hadley's never even met. Then she meets the perfect boy in the airport's cramped waiting area. His name is Oliver, he's British, and he's sitting in her row.
A long night on the plane passes in the blink of an eye, and Hadley and Oliver lose track of each other in the airport chaos upon arrival. Can fate intervene to bring them together once more?
Quirks of timing play out in this romantic and cinematic novel about family connections, second chances, and first loves. Set over a twenty-four-hour-period, Hadley and Oliver's story will make you believe that true love finds you when you're least expecting it.
Me:
Here's my review for this novel: The Statistical Probability Of Love At First Sight By Jennifer E. Smith
2. Lady Of The Shades By Darren Shan
Synopsis:
Ed, an American author on the hunt for a story for his next book, arrives in London looking for inspiration. A stranger in a strange city, he's haunted by a deadly secret that refuses to stay buried, and no matter how hard he tries he cannot escape the manifest sins of his past. 
What Ed wants is answers, what he finds is something he definitely didn't bargain for: the beautiful and untouchable Andeanna Menderes. Andeanna is a woman who is dangerously bound to one of London's most notorious crime lords, and if they are caught together it could mean death for them both. 
Ensnared in an illicit affair that can only be conducted in the shadows, Ed's world is turned upside down as a series of shattering revelations blurs the line between what's real and what's not…
Me:
Yes, please? It's so good.
Here's my review for this novel: Lady Of The Shades By Darren Shan
1. Harry Potter Series By J.K Rowling
Synopsis:
Harry Potter's life is miserable. His parents are dead and he's stuck with his heartless relatives, who force him to live in a tiny closet under the stairs. But his fortune changes when he receives a letter that tells him the truth about himself: he's a wizard. A mysterious visitor rescues him from his relatives and takes him to his new home, Hogwarts School of Witchcraft and Wizardry.
After a lifetime of bottling up his magical powers, Harry finally feels like a normal kid. But even within the Wizarding community, he is special. He is the boy who lived: the only person to have ever survived a killing curse inflicted by the evil Lord Voldemort, who launched a brutal takeover of the Wizarding world, only to vanish after failing to kill Harry.
Though Harry's first year at Hogwarts is the best of his life, not everything is perfect. There is a dangerous secret object hidden within the castle walls, and Harry believes it's his responsibility to prevent it from falling into evil hands. But doing so will bring him into contact with forces more terrifying than he ever could have imagined.
Full of sympathetic characters, wildly imaginative situations and countless exciting details, the first installment in the series assembles an unforgettable magical world and sets the stage for many high-stakes adventures to come.
Me:
Duh? Of course, Harry Potter, my beloved books, will be held at the first in this placing. I made 2 articles on this series and if you would like to view them, do click on the links below:
---
And that concludes my 'Best Books Of 2018!' Be sure to let me know what your Best Books of 2018 are down in the comment box below! I hope you all enjoyed this article and follow me with your email/WordPress account to get notifications when I post a new article! Bye!