Hey Guys! It is Max here and I will be manufacturing the 'Worst Books Of 2018' article! Just a side note: Worst Books of 2018 does not necessarily mean that the books on this list are going to only limit 2018's published books, it will be the books that I read in 2018.
So, I know this is going to get controversial and certain people are probably going to be annoyed, therefore, I shall apologise in advance if I have spoken badly about your favourite books … But do not give me any hate comments because I value your opinion and you should do the same. 
If you do not know, I am currently working on this three-part series, like last year, where I published 3 articles towards the end of the year- 31st of December. If you would like to know what the articles are, here is the list:
Worst Books Of 2018

Best Books Of 2018
Most Anticipated Reads Of 2019
So, without further ado, let us get into the list!
9. The Girl On The Train By Paula Hawkins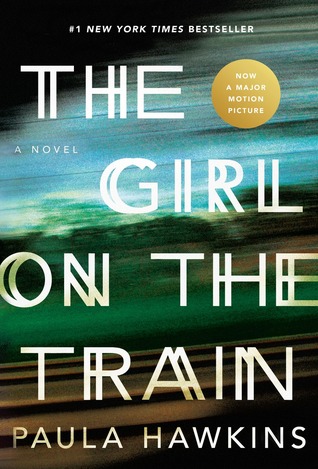 Synopsis:
Rachel catches the same commuter train every morning. She knows it will wait at the same signal each time, overlooking a row of back gardens. She's even started to feel like she knows the people who live in one of the houses. 'Jess and Jason', she calls them. Their life – as she sees it – is perfect. If only Rachel could be that happy. And then she sees something shocking. It's only a minute until the train moves on, but it's enough.
Now everything's changed. Now Rachel has a chance to become a part of the lives she's only watched from afar. Now they'll see; she's much more than just the girl on the train…
Me:
This is definitely one of those books that initially the chapters had ended and I had closed the book, I thought I had read something fabulous and thought-provoking… But after much speculation, I felt chagrined.
A review will be up on my blog soon or it had already been up by the time this article is published on my blog (I am pre-writing this article) and that review will go in-depth into my likes and dislikes for the novel. So, do check it out if you have some spare time! 
However, I would like to do some quick revision on why I hated this novel:
I literally knew who the killer was before the 'plot twist' was uttered. 

There were a lot of dull pages, in the form of slow progression of the plot.

The characters never ever grow. In other words, no character development.
I thought this book was going to be fantastic since everybody loves it but I was so disappointed with it … Just imagine my disappointment with this highly acclaimed novel. 
8. Witch Hill By Marcus Sedgwick 
Synopsis:
The fire was a family tragedy that Jamie can't forget, even in his dreams. Now something terrifying involving a witch and a frightened girl is happening to Jamie in Crownhill, the village where he's been sent to get over his problems.
Me:
If you do not know, Marcus Sedgwick is one of my favourite authors of all time and I was so dissatisfied with this novel after I read it. That does not take away my love for Marcus Sedgwick's work, it is probably just this novel that I felt vanquished about.
Again, the review might probably already be up on my blog so if you have time, do check it out!
Here is a list of things that I disliked about this book:
The plot is all over the place.

A lot of confusing factors involved.

Lack of character substance.

The Witch's motives were not even explained.
I was especially annoyed with the Witch's unexplained motives because the plot faltered if that was not explained since the whole book centred around the Witch and the Witch's hill. Thus, I did not enjoy this novel.
7. Agent Darcy and Ninja Steve: Tiger Trouble By Grant Goodman
Synopsis:
SECRET MISSIONS. SPIN KICKS. SINISTER GHOSTS.
Thirteen year-old Agent Darcy is one of the top students at the Bureau of Sneakery, where there are three rules every agent must follow: never make friends with an outsider, never speak of the Bureau, and never reveal your real name. Lately, Darcy has hit a rough patch: her rival, Agent Serena, keeps outdoing her. If things keep going this way, Darcy is convinced that no one will ever assign her a real mission.
Ninja Steve's city, Ninjastoria, is the home of sword fights, throwing stars, and Tae Kwon Donuts. Unlike his genius older sister, twelve year-old Steve isn't the best ninja student. He'd rather be swinging a sword instead of taking notes in class. Steve, however, is about to learn that being a true ninja means far more than being able to use a sword.
When Darcy is sent to Ninjastoria as an exchange student, it will turn both of their lives upside-down and raise all kinds of questions:
What do the mecha-moles want? Who is the man in the gray mask? What do ninjas eat for lunch? And why is there a menacing tiger on the cover of this book? 
Time to read and find out!
Me:
I have a 2100 words review on this book and it explains why I was so vexed with this novel and so, if you would like to have a look at it, click on the link below:
(Link to review)
6. The Fire Sermon By Francesca Haig 
Synopsis:
Four hundred years in the future, the Earth has turned primitive following a nuclear fire that laid waste to civilization and nature. Though the radiation fallout has ended, for some unknowable reason every person is born with a twin. Of each pair one is an Alpha – physically perfect in every way – and the other an Omega burdened with deformity, small or large.
With the Council ruling an apartheid-like society, Omegas are branded and ostracized while the Alphas have gathered the world's sparse resources for themselves. Though proclaiming their superiority, for all their effort Alphas cannot escape one harsh fact: Whenever one twin dies, so does the other. Cass is a rare Omega, one burdened with psychic foresight. While her twin, Zach, gains power on the Alpha Council, she dares to dream the most dangerous dream of all: equality. For daring to envision a world in which Alphas and Omegas live side by side as equals, both the Council and the Resistance have her in their sights.
Me:
I read this novel when I was under stress due to my workload and it made me even more stress when I finally concluded the novel. Just a tip: I did not enjoy the process of reading this novel.
It was really boring, alright. They kept walking, running, hiding and repeat. I thought this book would excel and become ten times better if there were more action sequences and more character development.
I found the idea behind this novel intriguing but that just proved that the potential for this novel went to waste. So, I am not going to read the sequel of this novel as the final page for this book concludes with the protagonist, running away, yet again.
*She will never stop running*
5. War Storm By Victoria Aveyard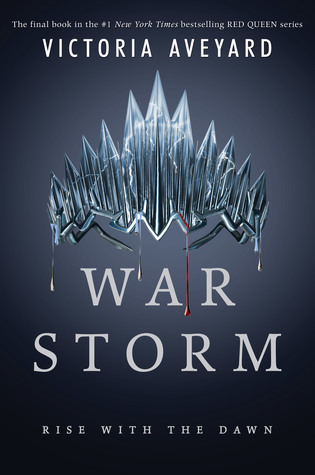 Synopsis:
Victory comes at a price.
Mare Barrow learned this all too well when Cal's betrayal nearly destroyed her. Now determined to protect her heart—and secure freedom for Reds and newbloods like her—Mare resolves to overthrow the kingdom of Norta once and for all… starting with the crown on Maven's head.
But no battle is won alone, and before the Reds may rise as one, Mare must side with the boy who broke her heart in order to defeat the boy who almost broke her. Cal's powerful Silver allies, alongside Mare and the Scarlet Guard, prove a formidable force. But Maven is driven by an obsession so deep, he will stop at nothing to have Mare as his own again, even if it means demolishing everything—and everyone—in his path.
War is coming, and all Mare has fought for hangs in the balance. Will victory be enough to topple the Silver kingdoms? Or will the little lightning girl be forever silenced?
In the epic conclusion to Victoria Aveyard's stunning series, Mare must embrace her fate and summon all her power… for all will be tested, but not all will survive.
Me:
I adored this series and I gave all of its predecessors' good ratings except for this concluding novel to the series.
Why would this book which was previously one of my most anticipated reads of 2018 be on the Worst Books list? 
That is all because of the Mare that emits nuisance.
For example,
I cannot be with Cal because he is the King.
I cannot be with Cal because he betrayed my heart.
I shall not set my eyes upon his.
How freaking annoying. Look at Evangeline,  her girlfriend was her brother's betrothed and she still loves her all the same. Mare, on the other hand, does not have common sense because:
She can still love Cal even though he is a King.

She could suggest changes to him about the continent since Cal loves her.

She could fight for the rights of the Reds through Cal.
Unfortunately, we have a dumb protagonist that lost her brain cells. So, that's that.
4. Angelfall By Susan Ee
Synopsis:
It's been six weeks since angels of the apocalypse descended to demolish the modern world. Street gangs rule the day while fear and superstition rule the night. When warrior angels fly away with a helpless little girl, her seventeen-year-old sister Penryn will do anything to get her back.
Anything, including making a deal with an enemy angel.
Raffe is a warrior who lies broken and wingless on the street. After eons of fighting his own battles, he finds himself being rescued from a desperate situation by a half-starved teenage girl.
Travelling through a dark and twisted Northern California, they have only each other to rely on for survival. Together, they journey toward the angels' stronghold in San Francisco where she'll risk everything to rescue her sister and he'll put himself at the mercy of his greatest enemies for the chance to be made whole again.
Me:
#No
Another highly acclaimed novel that disappointed me. 
I think I mentioned it before, in one of my book tag article, that I absolutely disliked this book because the characters felt like they were fighting over a pastime. The fact that my distaste for this novel remained the same says a lot as it had been months since I last touched that novel. Therefore, I dislike this novel.
3. Miss Peregrine's Home For Peculiar Children By Ransom Riggs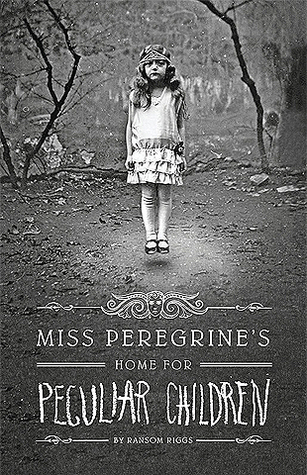 Synopsis:
A mysterious island. An abandoned orphanage. A strange collection of very curious photographs. It all waits to be discovered in Miss Peregrine's Home for Peculiar Children, an unforgettable novel that mixes fiction and photography in a thrilling reading experience. As our story opens, a horrific family tragedy sets sixteen-year-old Jacob journeying to a remote island off the coast of Wales, where he discovers the crumbling ruins of Miss Peregrine's Home for Peculiar Children. As Jacob explores its abandoned bedrooms and hallways, it becomes clear that the children were more than just peculiar. They may have been dangerous. They may have been quarantined on a deserted island for good reason. And somehow-impossible though it seems-they may still be alive. A spine-tingling fantasy illustrated with haunting vintage photography, Miss Peregrine's Home for Peculiar Children will delight adults, teens, and anyone who relishes an adventure in the shadows.
Me:
*facepalm*
Here's the link to the review for this novel: Miss Peregrine's Home For Peculiar Children By Ransom Riggs
2. End Of Days By Susan Ee
Synopsis:
End of Days is the explosive conclusion to Susan Ee's bestselling Penryn & the End of Days trilogy. After a daring escape from the angels, Penryn and Raffe are on the run. They're both desperate to find a doctor who can reverse the twisted changes inflicted by the angels on Raffe and Penryn's sister. As they set off in search of answers, a startling revelation about Raffe's past unleashes dark forces that threaten them all.
When the angels release an apocalyptic nightmare onto humans, both sides are set on a path toward war. As unlikely alliances form and strategies shift, who will emerge victorious? Forced to pick sides in the fight for control of the earthly realm, Raffe and Penryn must choose: Their own kind, or each other?
Me:
This finale is somehow even worse than War Storm. 
End Of Days which was a book I was anticipating to read since the second book in this trilogy was such an improvement from the first novel that I thought the final novel would be an explosive ending… Unfortunately, that's not the case here.
This finale felt like a rush. It felt like the author wanted to excrete as much new information into this novel as fast as possible even though most of the new information does not make any sense. 
The characters were unrecognizable. They kind of fell out of character and swapped personalities in a time span of two books. Therefore, I despised this novel.
1. New Moon By Stephenie Meyer
Synopsis:
I knew we were both in mortal danger. Still, in that instant, I felt well. Whole. I could feel my heart racing in my chest, the blood pulsing hot and fast through my veins again. My lungs filled deep with the sweet scent that came off his skin. It was like there had never been any hole in my chest. I was perfect – not healed, but as if there had never been a wound in the first place. 
For Bella Swan, there is one thing more important than life itself: Edward Cullen. But being in love with a vampire is even more dangerous than Bella could ever have imagined. Edward has already rescued Bella from the clutches of one evil vampire, but now, as their daring relationship threatens all that is near and dear to them, they realize their troubles may be just beginning…
Me:
Ew… The most revolting novel that I had ever set my eyes upon. 
Here's the link to the review: New Moon By Stephenie Meyer
---
And that concludes my 'Worst Books Of 2018!' Be sure to let me know what your worst books of 2018 are down in the comment box below! I hope you all enjoyed this article and follow me with your email/WordPress account to get notifications when I post a new article! Bye!