Hey Guys! It is Max here and I will, ironically, be doing my very first TBR of the year and do not even get me started on the lack of articles that I have been putting up since the beginning of this year. But, I have a good reason for it. I did not really produce many articles on my blog this year due to the stressful amount of homework that I am currently having in my school. In addition, I am having my finals this year which is frightening that my new life in college is going to start soon which is next year. 
So, with those things aside, I would like to dive head-on into my March TBR 2018 list. I probably would not be able to read all of them, but I will most certainly try! Now, the first on my To-Be-Read list is:
1. Curse Workers Trilogy By Holly Black
Synopsis:
Cassel comes from a family of curse workers: people who have the power to change your emotions, your memories, your luck, by the slightest touch of their hands. And since curse work is illegal, they're all criminals. Many become mobsters and con artists. But not Cassel. He hasn't got magic, so he's an outsider; the straight kid in a crooked family. You just have to ignore one small detail – he killed his best friend, Lila, three years ago.
Cassel has carefully built up a facade of normalcy, blending into the crowd. But his facade starts to crumble when he finds himself sleepwalking, propelled into the night by terrifying dreams about a white cat that wants to tell him something. He's noticing other disturbing things, too, including the strange behaviour of his two brothers. They are keeping secrets from him. As Cassel begins to suspect he's part of a huge con game, he must unravel his past and his memories. To find out the truth, Cassel will have to outcon the conmen.
Me, speaking:
Oh my goodness, you guys. I already finished the first book which I am planning on doing a full non-spoiler but will contain some mini spoilers book review on this blog and I am currently reading the second book- Red Gloves which is equally as charming as the first novel! I can't wait to finish this trilogy! And I highly recommend all of you to check this gorgeous book out! 
My rating for White Cat on Goodreads: ✶✶✶✶✶
Red Gloves Page Count: 104/325
2. City Of Bones, City Of Ashes and City Of Glass By Cassandra Clare
Synopsis:
When fifteen-year-old Clary Fray heads out to the Pandemonium Club in New York City, she hardly expects to witness a murder― much less a murder committed by three teenagers covered with strange tattoos and brandishing bizarre weapons. Then the body disappears into thin air. It's hard to call the police when the murderers are invisible to everyone else and when there is nothing―not even a smear of blood―to show that a boy has died. Or was he a boy?
This is Clary's first meeting with the Shadowhunters, warriors dedicated to ridding the earth of demons. It's also her first encounter with Jace, a Shadowhunter who looks a little like an angel and acts a lot like a jerk. Within twenty-four hours Clary is pulled into Jace's world with a vengeance when her mother disappears and Clary herself is attacked by a demon. But why would demons be interested in ordinary mundanes like Clary and her mother? And how did Clary suddenly get the Sight? The Shadowhunters would like to know… 
Me, speaking (again):
Again, I finished the first book- City Of Bones this month and I thought it was rather mediocre. Initially, I thought it would be an extremely fantastic book since this book had been adapted into films and a television series… However, I found the beginning of the book to be rather anti-climatic and if you would like to know more about what I had in mind for this book, do visit my City Of Bones review! I will be linking it down below for you guys to check it out:
Review: City Of Bones By Cassandra Clare
Also, because I thought the ending for book one in the Shadowhunters series was absolutely fabulous (unlike the beginning of the novel), I had decided to continue on with this series! And with that being said, I am currently reading City Of Ashes along with Red Gloves which I thought both of them are entertaining me enough to not distract the chemicals in my brain to another novel. 
My rating for City Of Bones on Goodreads: ✶✶✶⋆
City Of Ashes Page Count: 125/411
3. Angelfall By Susan Ee
Synopsis:
It's been six weeks since angels of the apocalypse descended to demolish the modern world. Street gangs rule the day while fear and superstition rule the night. When warrior angels fly away with a helpless little girl, her seventeen-year-old sister Penryn will do anything to get her back.
Anything, including making a deal with an enemy angel.
Raffe is a warrior who lies broken and wingless on the street. After eons of fighting his own battles, he finds himself being rescued from a desperate situation by a half-starved teenage girl.
Travelling through a dark and twisted Northern California, they have only each other to rely on for survival. Together, they journey toward the angels' stronghold in San Francisco where she'll risk everything to rescue her sister and he'll put himself at the mercy of his greatest enemies for the chance to be made whole again.
Me, Speaking (x2 again):
I bought Angelfall By Susan Ee recently due to the fact that I have Book Two and Book Three on my bookshelf without book one to join the collection which led to a problem… I cannot read this trilogy without reading book one. Therefore, the purchases. However, I have been eyeing on this novel before I have gotten the second and third book! And in time, it has sparked something in me which has gotten me curious on what it is about! Thus, I cannot wait to read it this month!
4. Agent Darcy & Ninja Steve: Tiger Trouble By Grant Goodman
Synopsis:
SECRET MISSIONS. SPIN KICKS. SINISTER GHOSTS. 
Thirteen-year-old Agent Darcy is one of the top students at the Bureau of Sneakery, where there are three rules every agent must follow: never make friends with an outsider, never speak of the Bureau, and never reveal your real name. Lately, Darcy has hit a rough patch: her rival, Agent Serena, keeps outdoing her. If things keep going this way, Darcy is convinced that no one will ever assign her a real mission. 
Ninja Steve's city, Ninjastoria, is the home of sword fights, throwing stars, and Tae Kwon Donuts. Unlike his genius older sister, twelve-year-old Steve isn't the best ninja student. He'd rather be swinging a sword instead of taking notes in class. Steve, however, is about to learn that being a true ninja means far more than being able to use a sword. 
When Darcy is sent to Ninjastoria as an exchange student, it will turn both of their lives upside-down and raise all kinds of questions: 
What do the mecha-moles want? Who is the man in the grey mask? What do ninjas eat for lunch? And why is there a menacing tiger on the cover of this book? 
Me, Speaking (x3 again):
I received a complimentary copy of this book in exchange for an honest review. 
This is a middle-grade novel and it is pretty short which I am planning on reading over the weekend. So, I am sure the review for this novel will be out soon! And I had read some pretty good reviews on Goodreads about this book that I could not wait to get my eyes on those words beneath the cover! Therefore, I am excited to read this novel!
5. Rebels and Fools David Michael Williams
Synopsis:
The greatest peace treaty in Altaerran history is unravelling. As civil war threatens the Continent United, two fallen Knights of Superius are forced to join the rebels they once condemned. Hounded by assassins and assailed by doubt, they flee to Capricon in search of answers — only to discover the island harbours dark secrets of its own. 
Alongside a mostly reformed thief, a dethroned pirate king, a mysterious woman with a magical sword, and other would-be heroes, the fugitives encounter a sinister power that has taken root within the Alliance. If the Renegades and Knighthood can't rise above their bitter rivalry, both factions — and the realm itself — are doomed. 
Me, Speaking (x4 again):
I had been putting this book off most my TBR because of how unmotivated I was at the time when I was extremely stressful and do not wish to read any fantasy novels. I would not say that I am not very stress now, but I am in the mood for some fantasy to invade into my brain. Thus, I cannot wait to read this novel- soon! 
6. Fantastic Beasts and Where to Find Them: The Original Screenplay by J.K Rowling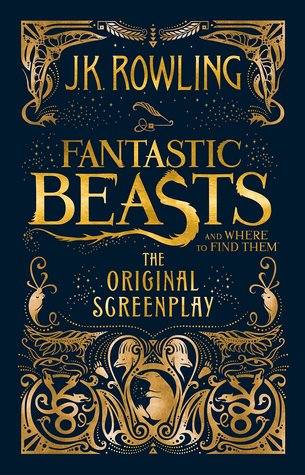 Synopsis:
J.K. Rowling's screenwriting debut is captured in this exciting hardcover edition of the Fantastic Beasts and Where to Find Them screenplay.
When Magizoologist Newt Scamander arrives in New York, he intends his stay to be just a brief stopover. However, when his magical case is misplaced and some of Newt's fantastic beasts escape, it spells trouble for everyone…
Fantastic Beasts and Where to Find Them marks the screenwriting debut of J.K. Rowling, author of the beloved and internationally bestselling Harry Potter books. Featuring a cast of remarkable characters, this is epic, adventure-packed storytelling at its very best.
Whether an existing fan or new to the wizarding world, this is a perfect addition to any reader's bookshelf.
Me, Speaking (x5 again):
I finished this screenplay in a sitting and I thought it was a magical journey to be in the wizarding world again! Although I have absolutely 0 idea on how I should annotate and what kind of style I should perform for this review, I will still try my best to do it anyways. Therefore, I enjoyed reading this beautiful book!
My Rating for Fantastic Beasts and Where to Find Them: The Original Screenplay by J.K Rowling on Goodreads: ✶✶✶✶
---
Before I end this exciting TBR article that I just made, I would like to share an announcement with you guys! I have yet to review the following books down below:
Ocean at the end of the lane By Neil Gaiman
Viral Spark By Martin McConnell
White Cat By Holly Black
Fantastic Beasts and Where to Find Them: The Original Screenplay by J.K Rowling
The thing is, I have not had the time to review them which is a bummer because I would really like to release my thoughts on all of these books to you guys! However, I would be reviewing them soon but it will be a tedious process because I can only be stringing up reviews when I have some time off from homework and revision and all that stuff. So, sorry for all the wait and sorry again!
---
This is the end of my March TBR list and I will probably add a few more books onto the list but as for now, I am going to stick to whatever books that I have put onto the list of books that I am going to read this month! Therefore, I hope you all enjoyed it and let me know your March TBR down in the comment box below! Follow me with your email/WordPress account to get notifications when I post a new article! Bye!