Hey Guys! It is Max here and I will be doing the 'Albums' book tag today. This tag is partnered and created by Harsh from The Kid Reader and I from Maxxesbooktopia. Therefore, this is the original book tag article and I am so excited to share this book tag with you guys because I love musics with books! Yay! 
Now, with all the fanboy craziness aside, let us get into business. This tag is inspired by Taylor Swift's new album called 'Reputation' and it is created based on some albums from the 2017 and 2016 chart lists and each of the album's name will have a fun question tagging along with it. Thus, let us get into the fun stuff! 
[For your information, the songs in these albums are great]
Rules: 
Copy and Paste this rule!
Answer all the following questions!
At the end of this tag, please let your readers know which album is your favourite!
Nominate up to 10 people to do this tag!
For your 'Tags and Categories' button: add #TheAlbumsBookTag into the tag list!
Add a Fun Fact section to this book tag and say: I did The Albums Book Tag! Yay!
Give a million thank yous to the person that tagged you!
Give a shoutout to the creators of this book tag!
If you have not been tagged and would like to join this fun book tag, feel free to play it!
That is all. Have Fun!
The Questions:
1) Reputation – A book that you are so ready for it to be released!
Answer: The synopsis for this book is everything that I never knew that I wanted but now I do. The synopsis will be provided down below:
Synopsis for War Storm:
VICTORY COMES AT A PRICE.
Mare Barrow learned this all too well when Cal's betrayal nearly destroyed her. Now determined to protect her heart—and secure freedom for Reds and newbloods like her—Mare resolves to overthrow the kingdom of Norta once and for all… starting with the crown on Maven's head.
But no battle is won alone, and before the Reds may rise as one, Mare must side with the boy who broke her heart in order to defeat the boy who almost broke her. Cal's powerful Silver allies, alongside Mare and the Scarlet Guard, prove a formidable force. But Maven is driven by an obsession so deep, he will stop at nothing to have Mare as his own again, even if it means demolishing everything—and everyone—in his path.
War is coming, and all Mare has fought for hangs in the balance. Will victory be enough to topple the Silver kingdoms? Or will the little lightning girl be forever silenced?
In the epic conclusion to Victoria Aveyard's stunning series, Mare must embrace her fate and summon all her power… for all will be tested, but not all will survive.
Me:
Guys, I am so pumped up for this finale and the cover for this book is absolutely stunning! Therefore, this is a book that I am so ready for it to be released!
2) Divide – A book that makes you feel romantic every time you read the book or glance at the cover
Answer: Akiva and Karou… They belong together. Oh, oops. Sorry for fantasizing about Akiva and Karou but every time I think about this book, the romantic moments between Akiva and Karou comes flooding back to me. Therefore, the answer for this question is The Daughter of Smoke and Bone.
[P.S Read this book!] 
3) Beautiful Trauma – Name an author and his/her books that made you cry
Answer: Patrick Ness' books made me cry! Oh, why did you do this to me, Patrick? In other words, it is good thing that a novel make me cry because it means that I am deeply connected with the characters and the story that they are unfolding.
Also, to answer the question of the books that made me cry: The first Patrick Ness' book that made me sob has to go to A Monster Calls and second book has to go to Monsters Of Men which made me weep even more than A Monster Calls. Therefore, I highly recommend you guys to check Patrick Ness' books out if you are looking for a book that will make you tear up.
4) The Thrill Of It All – A book that you used to love but have decided to ditch it because the love for it is gone.
Answer: I used to really love Geronimo Stilton's books because of how fun and creative they were. However, as the story progresses on and more books are added into the series, I realized that I had slowly and progressively grown out of it. Although I had grown out of this series, I would not say that the love for the books in this series is gone because I still really love the previous books and they were a part of my childhood! Therefore, I have decided to stop reading this book series.
5) Illuminate – A book series that makes you want more from it even though it had already ended    
Answer: Hi, Suzanne Collins! Thank you for bringing Young Adult literature into my life but I would really like to have a prequel for The Hunger Games because the world you have built is so interesting and I want more from it. Please write a prequel. Pleaseeee. Thank You. 
[Yes. I noticed that I am still dwelling on this book trilogy even though it had already ended years ago.]
6) This is Acting – A book series that you have been lacking behind but would like to catch up on
Answer: The Mortal Instruments Series! Last year, I finished 'The Infernal Devices' Trilogy which is the prequel to the Mortal Instruments series and I thought the books were fantastic and well-written but unfortunately, I have not picked this book series up yet due to the fact that there are six books in the series. However, I am planning to finish reading this book series during the school holidays and I think that I can finish them. Therefore, I have a goal to finish The Mortal Instruments series before the end of this year.
7) Back from the edge – A book genre that you were bored with but when you read a book from that genre, you found out that there are still gems in this particular genre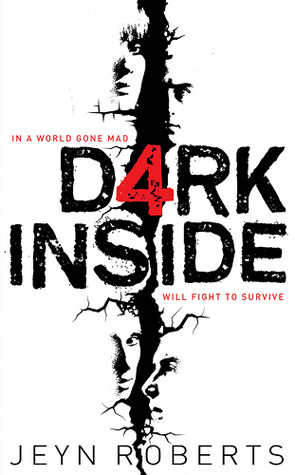 Answer: I was originally bored of the dystopian genre but when I finished reading this book, I realized that I really like this genre! It is something like a reminiscent from the past and therefore, my love for the dystopian genre has returned! 
Here's a link to the review for Dark Inside: Dark Inside by Jeyn Roberts
8) Purpose – A book that you have read but it is from a genre that you do not usually read from
Answer: Night Film by Marisha Pessl! It was so freaking fantastic and mind-boggling that I cannot even explain how that happens or process those informations into my brain. Furthermore, this is from a genre of mystery and I do not usually read from that genre because I do not like it? But that has all changed! I really enjoy reading books from this genre now and if you have any books from the genre of mystery you would like to recommend, hit me with a comment down in the comment box below!
Here's a link to the review: Night Film by Marisha Pessl
9) Get Weird – A book with a character that you disliked
Answer: The Isle Of The Lost has many unlikable characters that just pissed me off when I was reading that book. Some of the characters were so annoying and cringe worthy that sometimes, they do not make any sense. It is something like a brain blockage that do not allow any information to pass through the brain before the body reacts. Thus, the answer is this- The Isle Of The Lost.
Here's a link to my review: The Isle Of The Lost by Melissa De La Cruz
10) Trolls – A book that you originally thought that you would enjoy but ended up disappointing you
Answer: Cruel Crown by Victoria Aveyard. I originally thought that I will like this book but nope, it disappointed me because I loved the overall series but this book that contains those short stories deem as unnecessary to me due to the fact that they did not add any additional information that we do not already know into the story.
Fun Fact:
I did The Albums Book Tag! Yay!
My Nominees:
---
And that concludes my attempt on 'The Albums Book Tag'! I hope you all enjoyed it and follow me with your email/wordpress account to get notifications when I post a new article! Bye!