Hey Guys! It is Max here and I will be doing my 'November TBR' today. Last month was a pretty terrible reading month for me because I had only finished The Notebook by Nicholas Sparks, The Isle Of The Lost By Melissa De La Cruz, Twilight by Stephanie Meyer, Monsters of Men and Snowscape- both by Patrick Ness. As normal, I will be linking all of my reviews down below:
Let us do a mini wrap-up before we go into my TBR list. Last month was a dreadful reading month because I did not read much and I had a book that I DNF-ed and that book was named 'The Notebook' by Nicholas Sparks. I did not finish this book due to my lack of interest in the story. However, I am planning on re-reading it soon because I understand that I read the book at the wrong time and it is unfair to not finish the story. Thus, I will probably read it next month. 
Moving on, I had a book that I did not enjoy and that book was 'The Isle Of The Lost' by Melissa De La Cruz. Well, the reasons for my distaste for this book are all in my review. Go and check it out if you are interested! 
Besides all the books that I DNF-ed and disliked, I had three books that I loved and those books are called Snowscapes and Monsters of Men by Patrick Ness and Twilight by Stephanie Meyer. I had reviews for it on my blog, so- do check it out if you are interested!
Now, with all of that aside, let us get into my monthly TBR!
1. Midwinterblood by Marcus Sedgwick
Synopsis:
Have you ever had the feeling that you've lived another life? Been somewhere that has felt totally familiar, even though you've never been there before, or felt that you know someone well, even though you are meeting them for the first time? It happens. 
In a novel comprising seven parts, each influenced by a moon – the flower moon, the harvest moon, the hunter's moon, the blood moon – this is the story of Eric and Merle whose souls have been searching for each other since their untimely parting.
Me:
Ah! I have already finished reading this book and it was so freaking good and thought-provoking! I am going to do a review for this book soon but do give me a few days to think of what I am going to write in it because this novel is going to be a hard book to review!
2. Dark Inside by Jeyn Roberts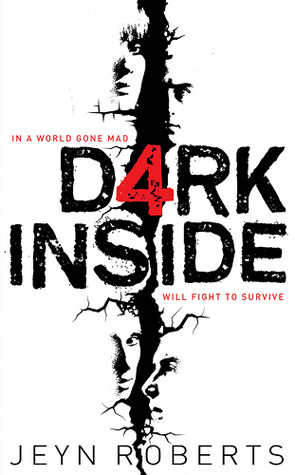 Synopsis:
Since the beginning of mankind, civilizations have fallen: the Romans, the Greeks, the Aztecs…and now us.
Huge earthquakes rock the world. Cities are destroyed. But something even more awful is happening: An ancient evil has been unleashed, and it's turning everyday people into hunters, killers, and crazies. This is the world Mason, Aries, Clementine, and Michael are living in–or rather, trying to survive. Each is fleeing unspeakable horror, from murderous chaos to brutal natural disasters, and each is traveling the same road in a world gone mad.
Amid the throes of the apocalypse and clinging to love and meaning wherever it can be found, these four teens are on a journey into the heart of darkness–and to find each other and a place of safety.
Me:
I am currently reading this book and it is decent (for me) so far although the pacing is amazingly quick and the action is everywhere. I think the only problem for this book is the characters. They are so selfish and the things they talk about are somehow showing how spoiled they are. But everything else is great! So, that's that.
3. The Goblins Of Bellwater by Molly Ringle
Synopsis:
Most people have no idea goblins live in the woods around the small town of Bellwater, Washington. But some are about to find out. 
Skye, a young barista and artist, falls victim to a goblin curse in the forest one winter night, rendering her depressed and silenced, unable to speak of what happened. Her older sister, Livy, is at wit's end trying to understand what's wrong with her. Local mechanic Kit would know, but he doesn't talk of such things: he's the human liaison for the goblin tribe, a job he keeps secret and never wanted, thrust on him by an ancient family contract.
Unaware of what's happened to Skye, Kit starts dating Livy, trying to keep it casual to protect her from the attention of the goblins. Meanwhile, unbeknownst to Kit, Skye draws his cousin Grady into the spell through an enchanted kiss in the woods, dooming Grady and Skye both to become goblins and disappear from humankind forever.
It's a midwinter night's enchantment as Livy, the only one untainted by a spell, sets out to save them on a dangerous magical path of her own.
Me:
This book has been on my TBR for months! It is time to read it!
4. Desolate by Amy Miles
Synopsis:
A wedding massacre. An innocence stolen. Mortality stripped away. 
In a single night, everyone Roseline Dragomir has ever loved is slaughtered before her eyes. Alone in the world and bound by a solemn marriage vow to a vicious murderer, she must find a strength buried deep within her to keep going or risk completely losing herself. 
When a mysterious stranger crosses her path, Roseline will discover that not all immortals are evil. Some even bear emotional scars that run just as deep as her own. 
Will she uncover a will not just to survive…but to fight back? 
Me:
Another book that has been on my TBR for months! Just thinking and talking about this book right now motivates me to pick it up and read the whole book later but let's be realistic here, that is not going to happen as I am still reading Dark Inside.
5. Six Of Crows by Leigh Bardugo
Synopsis:
Criminal prodigy Kaz Brekker has been offered wealth beyond his wildest dreams. But to claim it, he'll have to pull off a seemingly impossible heist:
Break into the notorious Ice Court
(a military stronghold that has never been breached)
Retrieve a hostage
(who could unleash magical havoc on the world)
Survive long enough to collect his reward
(and spend it)
Kaz needs a crew desperate enough to take on this suicide mission and dangerous enough to get the job done – and he knows exactly who: six of the deadliest outcasts the city has to offer. Together, they just might be unstoppable – if they don't kill each other first.
Me:
My friend has been budging for me to read this book and because of that, I have decided to read it this month as she would not stop budging.
6. Curse of Stars By Donna Compositor
Synopsis:
Sabi Perez is the last Diamond Crier, only she doesn't know it. Not until a crazed ruler from another world comes to collect her priceless tears and won't take no for an answer.
Living in New York, Sabi's seen some nasty things, but the lengths to which her captor will go to keep his crown are things found only in the darkest nightmares. Afraid and alone, Sabi finds solace in her cellmate, Anya, and Cabal, a fellow Crier who also has powers, a rare combination that buys his favor from the ruler. Only it's a favor he doesn't want.
In a fit of rage, power erupts out of Sabi, the same power Cabal has, and a spark of hope ignites. Together they may have a chance at escape, something no other Crier has done. Except a ruler hellbent on draining them of every last diamond tear isn't their only hurdle. If they escape they'll be hunted to the ends of the earth, if they survive the trek to safety. If they stay the ruler will leech them dry. Sabi would rather die trying than lie down and die, even if that means running away into even more danger.
Me:
Another Advance Reader copy that I have been putting off for way too long and it has also been on my reading list for a very, very long time. Therefore, I am going to get on with it this month!
7. Falling Kingdom by Morgan Rhodes
Synopsis:
In the three kingdoms of Mytica, magic has long been forgotten. And while hard-won peace has reigned for centuries, a deadly unrest now simmers below the surface.
As the rulers of each kingdom grapple for power, the lives of their subjects are brutally transformed… and four key players, royals and rebels alike, find their fates forever intertwined. Cleo, Jonas, Lucia, and Magnus are caught in a dizzying world of treacherous betrayals, shocking murders, secret alliances, and even unforeseen love.
The only outcome that's certain is that kingdoms will fall. Who will emerge triumphant when all they know has collapsed?
It's the eve of war…. Choose your side.
Princess: Raised in pampered luxury, Cleo must now embark on a rough and treacherous journey into enemy territory in search of magic long thought extinct.
Rebel: Jonas, enraged at injustice, lashes out against the forces of oppression that have kept his country cruelly impoverished. To his shock, he finds himself the leader of a people's revolution centuries in the making.
Sorceress: Lucia, adopted at birth into the royal family, discovers the truth about her past—and the supernatural legacy she is destined to wield.
Heir: Bred for aggression and trained to conquer, firstborn son Magnus begins to realize that the heart can be more lethal than the sword….
Me:
My cousin has, also, been forcing me to read this book ever since his eyes laid on the first book in the Falling Kingdoms series. I can tell from his expression that he really loves the books and thus, I am adding this onto my TBR list for this month!
8. Portraits Of A Faerie Queen by Tay LoRoi
Synopsis:
After several long stressful months, things are looking up for seventeen-year-old Jocelyn Lennox. She's almost finished with her first commission gig, her family has no idea she's not in school, and she can say for a fact that her mother is about to wake up from a coma.
But when Jocelyn meets and rescues the beautiful Rina Fischler from the depth of a seedy nightclub, things get complicated.
For one thing, the nightclub is a favorite hangout for local faeries and not all of them are friendly. For another, their queen doesn't like it when humans stick their noses in faerie business. For a third, the queen herself is Jocelyn's commissioner and holds the key to her mother's healing.
Now Jocelyn must tread lightly on the thin ice she's made for herself, finish the last of the queen's portraits, and get as far from the Faerie Realm as possible by October 31st, for that is the night of the Hallowed Offering. On that night, the realm will renew their tie to magic and they will do so in blood.
If Jocelyn isn't careful, they just might use hers.
Me:
I could probably read this book this month as the book is pretty short- about 246 pages long and it sounds extremely remarkable and the cover is gorgeous as well. Thus, I will probably read it this month!
9. Ready Player One by Ernest Cline
Synopsis:
In the year 2044, reality is an ugly place. The only time teenage Wade Watts really feels alive is when he's jacked into the virtual utopia known as the OASIS.
Wade's devoted his life to studying the puzzles hidden within this world's digital confines, puzzles that are based on their creator's obsession with the pop culture of decades past and that promise massive power and fortune to whoever can unlock them. When Wade stumbles upon the first clue, he finds himself beset by players willing to kill to take this ultimate prize.
The race is on, and if Wade's going to survive, he'll have to win—and confront the real world he's always been so desperate to escape.
Me:
This book has been recommended by many people in the book community and I think now is the time for me to read it as the movie is about to be released. So, another book that I will definitely be getting into this month!
10. Lady Of The Shades by Darren Shan
Synopsis:
Ed, an American author on the hunt for a story for his next book, arrives in London looking for inspiration. A stranger in a strange city, he's haunted by a deadly secret that refuses to stay buried, and no matter how hard he tries he cannot escape the manifest sins of his past.

What Ed wants is answers, what he finds is something he definitely didn't bargain for: the beautiful and untouchable Andeanna Menderes. Andeanna is a woman who is dangerously bound to one of London's most notorious crime lords, and if they are caught together it could mean death for them both.

Ensnared in an illicit affair that can only be conducted in the shadows, Ed's world is turned upside down as a series of shattering revelations blurs the line between what's real and what's not… 
Me:
Once again, this book was recommended by a friend of mine to read! My friend said she really liked this book and although I put it off for a couple of month since she last recommended, I have finally put this book up on this list as a To-Be-Read for this month!
---
This is the end of my spontaneous November TBR list! I hope you all enjoyed it and let me know your November TBR down in the comment box below! Follow me with your email/wordpress account to get notifications when I post a new article! Bye!