Hey Guys! It is Max here and today, I will be doing a book review for Truthwitch by Susan Dennard. Susan Dennard is the author of Something Strange and Deadly which is her debut novel following two other books in the trilogy called A Darkness Strange and Lovely and Strange and Ever After. After I have finished reading and falling completely in love with Truthwitch, I really wish and hope to get my hands on that trilogy in the near future! 
Apart from that, I will now be giving you all a brief summary of what Truthwitch is all about. Truthwitch follows Safiya– the protagonist and her Threadsister, Iseult as they embark on a quest to escape from all those people who would kill to get Safiya by their side for political purposes because of her witchery which can differentiate between a truth and a lie.   
So, without further ado, let us get into the review for Truthwitch!
*Note: All thoughts and opinions are on my own and this is a spoiler-free review!*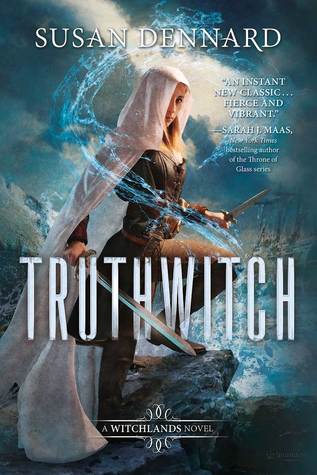 "Allow me to serve you, Safiya. We have spent too many years apart." "And I have spent too many hours between meals." A glare. "Give it to me now, Polly, or I shall castrate you with a fork."- Truthwitch, Susan Dennard.
Synopsis:
ON A CONTINENT RULED BY THREE EMPIRES, SOME ARE BORN WITH A "WITCHERY", A MAGICAL SKILL THAT SETS THEM APART FROM OTHERS. 
In the Witchlands, there are almost as many types of magic as there are ways to get in trouble—as two desperate young women know all too well.
Safiya is a Truthwitch, able to discern truth from lie. It's a powerful magic that many would kill to have on their side, especially amongst the nobility to which Safi was born. So Safi must keep her gift hidden, lest she be used as a pawn in the struggle between empires.
Iseult, a Threadwitch, can see the invisible ties that bind and entangle the lives around her—but she cannot see the bonds that touch her own heart. Her unlikely friendship with Safi has taken her from life as an outcast into one of reckless adventure, where she is a cool, wary balance to Safi's hotheaded impulsiveness.
Safi and Iseult just want to be free to live their own lives, but war is coming to the Witchlands. With the help of the cunning Prince Merik (a Windwitch and ship's captain) and the hindrance of a Bloodwitch bent on revenge, the friends must fight emperors, princes, and mercenaries alike, who will stop at nothing to get their hands on a Truthwitch.
My thoughts: Introduction
Let us start off with how unique the idea for this book was. The book mentioned lots of different witches and how those 'witcheries' might break- also known as Cleaved in the book if they use their witchery too hard or rather- to the extreme. The idea was fresh and highly original that I have a fun time reading something different for the first time in months. I have to admit that I was not into witches when I first started reading this book, but I was hooked to the story when I started reading it from page one to the end. It was fantastic and I loved it!
However, the pacing for this book, in my personal opinion, was not at all that fast-paced like everyone else said it would be. It took me two weeks to finish it mainly because I have assignments that needed to be completed for school. Aside from that, the book was pretty quick in the beginning with all those extremely creative action scenes and when it came to the center part of the book, the action scenes started to lessen and the pacing started to slow as well but the last 100 pages of the book were covered and blanketed with action scenes and plot twists that you will not see them coming.
Coming to the point where we talk about the plot twists in this book, I am telling you all this: "Those plot twists were… Mind-blowing and it 'wow-ed' me for 2 hours. Maybe not two hours because I am still in the Mind-blowing mood for Truthwitch." Yeah… I think that is about it! 
Moving on, there were some major plot holes in this book that I wish will be uncovered in the next book called Windwitch. Those plot holes left me gasping for more of the story and more of… Everything. Basically, my feelings for the plot holes right now are something like a vampire hungry for more of human's blood except you cancel out the blood and put stories and books into the sentence. Yes, that's my feeling for Truthwitch right now.
Furthermore, the atmosphere and world-building for this book were fantastically written and everything felt like fantasy and real life all at once and you will be like, "W-what j-just happen-e-ed?" Yeah, that happened to me and I was awed by how perfectly well the world and the atmosphere were constructed. The world of Truthwitch was something like ours.. but not. Something similar yet different which is now very hard to describe so… I will just summarize that the atmosphere and the world-building were constructed beautifully.
In addition of Truthwitch, the relationship between Safiya and her Threadsister, Iseult was outstanding! For once, we did not get a girl-hate-on-girl relationship but a sisterhood relationship which was a great addition to the story! I will give you an example of their relationship, Safiya will die for her Threadsister and Iseult will do the same for Safiya as well! Thus, I enjoyed the relationship in this book!
Also, this quote from Iseult point of view hurt me to bits: [Not a spoiler! I promise!]
"She wasn't taking the gift lightly- yet nor would she feel gratitude towards Alma. Ever. Alma had made this out of guilt. She was, after all, the reason Iseult had been denied a place as a Threadwitch apprentice- and also rejected as Gretchya's heir."- Truthwitch, Susan Dennard.
Finally, for the end of the introduction part of this review, I have a problem with the point of view that switches between Safiya, Iseult and Merik. I mean, I do not have a problem with the point of view that switches between Safiya and Iseult but I have trouble understanding Merik's point of view. Not that Merik was a bad character.. His point of view was just.. uh.. Hard to understand. If you get what I mean.. 
Now, let us move on to the writing section for Truthwitch!
Writing Style:
"Merik turned away, pretending not to hear. Not to care. But the truth was, he did hear and he did care."- Truthwitch, Susan Dennard.
The writing style for this book was very beautiful! It was emphatic, epigrammatic in some way and sometimes, the book felt a little prolix. It was a little prolix mainly because there were too many words in the sentence when the book was going in a very slow pace. But, either way, the writing style was beautiful.
I loved how Susan described the places around the protagonist while we, as readers, slowly visualized the world of Truthwitch. She built the world around the protagonist with the atmosphere of suspense, action and more. It gave me the feels when I was reading the book! 
Finally, those flashbacks that Susan had added to each of the characters were great! I loved how she had written the flashbacks and I loved how much the characters growth from those flashbacks! Just, the flashback technique used in this book was beautifully written!
Now, let us move on to the characters section!
Characters:
"Sorry to make you wait!" Safi roared over the rapid four-beat race. Her legs were bared, her silk gown shredded, and she clutched a pitchfork to her stomach. "And sorry for the trouble on my ass!"- Truthwitch, Susan Dennard.
Safiya: She had a kickbutt and smart yet hot-headed character. She was hot-headed because she made decisions that were unnecessary and sometimes, stupid. But, fortunately, she worked on making things right and she did not make the same mistakes twice! I have to admit that she was a pretty kickbutt and a little weak character in the beginning, but she became a tough character after that and therefore, she had a great character growth!
Iseult: Another kickbutt and smart heroine yet this time, her character was a little different from Safiya! She was cool and all compared to Safiya's Hot-Headedness! She was extremely tough in the beginning until the end but the one thing that made me laugh while reading was how she was so cool when [spoiler]! Her character was, also, fantastic and I hope to read more from her point of view in the future!
Merik: To be honest, I did not like him in the beginning until the middle of the book because of how unkind he was and how he scolded his crew. But, as I read more and more from his point of view and when I dived deeper into the book, I came to a point of liking him but not loving his character until the end of the book, when something happened and he was… [Spoiler]. So, his character had a huge improvement and thus, I loved his character!
Evrane: I loved her character! She was badass as well but kind and loving at the same time. I loved how her character evolved overtime and how her character slowly grow and grow! I cannot wait to see her in the next book called Windwitch! I bet she is going to be even more badass in the next installment! 
Overall:
I am giving this book a 86.75% rating. I did enjoy almost everything that was presented in this book but there were some things that I disliked as well. 
---
This is the end of my spoiler-free review for Truthwitch by Susan Dennard! I hope you all enjoyed it and follow me with your email/wordpress account to get notifications when I post a new article! Bye!